Poor rich and famous Justin Bieber. You see, he's so very famous that
his fans wanted to spend his 19th birthday with him
--those stupid,
overly aggressive dummies
!-- and that made it just
horrible
--in fact the
worst birthday
of his whole 19 years. Those rude people who won't let him have the life in the public eye he wanted all while maintaining extreme privacy! And then those same rude people had the nerve to
insinuate that he had underage kids
with him at a nightclub celebrating his birthday--an allegation the nightclub backs up. If those
haters
had been paying attention, they would have known that one of the rich and famous underage kids just "Gave Justin His Cartier Then Went Home." That's not at all the same as going to a nightclub... even though he kinda did [just didn't stay]. And he was in London for cripes' sake. London!! Just awful. Horrible. Inhumane!
Oh, gee! Poor baby! Too many people wanted to spend his 19th birthday with him, and the nightclub didn't bend the rules of legality to allow him to celebrate his 19th birthday the way
he
wanted, with all of his not-quite-yet-18 friends present and zero fans. First world problems doesn't even begin to cover this. Meanwhile... somewhere in the world, some kid didn't even
make it
to his 19th birthday, because he starved or was killed by violence long before that. But let's all take a moment of silence for Justin's awful
£
8,000 party....
Okay, I won't begrudge the kid (too much) bitching about his birthday or other first-world (and 1% of the first-world) problems. We all bitch from time to time. But even without the extremes of starvation/early, violent death vs. not-getting-your-wayitis, the kid still needs to learn some gratitude?

Here's the story of my 19th birthday: I was taking summer classes, so I was living in the international wing of my dormitory [which, with its high, black iron gate, somewhat resembled a prison], while the rest of it was closed for the summer. I didn't know a single person (out of the 35) in the dorms that summer. All of my friends were gone. My parents each went out of town (separate trips). Neither called me on that day at ALL. They had absolutely forgotten about my birthday.
While I was moping in the tiny courtyard, one of the other students found me, asked why I was glum, and then he felt bad about my parents and friends forgetting my birthday. So he took me to Whole Foods and bought me lunch. He didn't even know me. It was a really sweet gesture. Later that day, there was a knock on my door. The kind no-longer-stranger had told his roommate that it was my birthday and that my parents and friends had forgotten about me. His roommate came to let me know he was going to a party, and even though I probably didn't know anyone there, I could come along. I went. And he was right, I knew maybe one person who was there. But everyone was super duper nice, and all told me stories about how much their 19th birthdays sucked. Apparently, 19 is the most forgotten birthday. It's wedged in between the "you're officially an adult" birthday and the "congrats, you're in your 20s!" birthday, so people just don't give a crap about 19. One of the people who shared his "19 sucks" birthday stories with me was in the hospital on his birthday, so... ya know... could be worse.
Even though my 19th birthday started out pretty sucky, in the end, it wasn't bad. When I think about that birthday, I always laugh about how everyone had forgotten it; but their forgetting actually made it one of my most interesting and coolest birthdays. That was the day I experienced an incredible kindness from complete strangers. These guys didn't know me at all and had no reason to try to cheer me up, but they did it anyway. There were no ulterior motives behind it. They were just genuinely nice people. All of the people I met that night were generally just nice people who didn't want me to finish off my first day of 19 on a crappy note. For the sheer fact that it restored my faith in humanity [only for it to be later destroyed... but that's another story], my 19th birthday kinda rocked.
The thing is, all of us with 19th birthday horror stories had been forgotten. Bieber's problem? That too many people remembered. People wanted him to feel loved and adored. Instead, he felt annoyed and entitled. Suck it up, dude!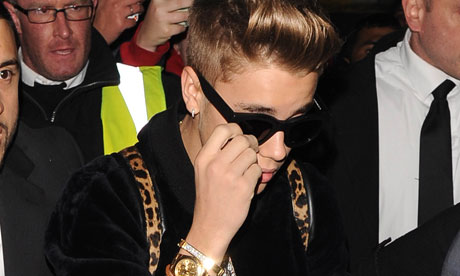 Photograph: Alex Davies/FilmMagic